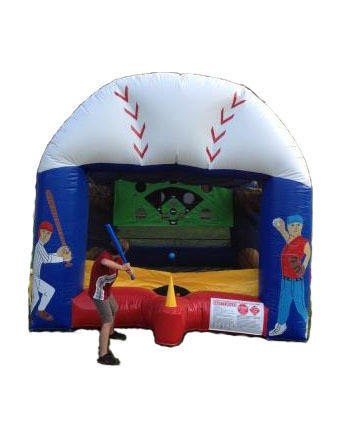 Home Run Baseball Game
See who can score the most points with our Home Run Baseball Game! The ball magically floats in mid air and the kids hit it with a bat into the outfield. Holes in the back drop are scored differently.


Looking for a really neat add on for your little slugger's party?

The home run baseball game is a great addition to your child's party and it is a great value as well. You can do many different things with the inflatable baseball game such as creating fun games and giving away cool party favors to the winner or you can just let the kids go at it all by themselves! Most kids will stand in the batters box for hours trying to hit the ball into a high scoring hole.

Having a School carnival or a end of the year bash?

The inflatable baseball game isn't just for backyards. It actually works really well as a carnival game. You can charge a couple tickets and give away a prize to every player such as inflatable baseball bats. Once the other kids at the carnival see the prize's that your giving away they will line up to have their turn..