795 N. Main Street - Clinton TN - 37716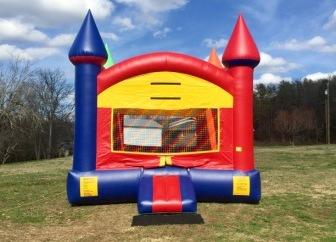 Bounce Houses
If you want to put a huge smile on your guests face then there is simply no better way to do it than a bounce house from Backyard Bouncers! Bounce house rentals are one of the best, easiest, and more affordable attractions around. We don't just bring any ole bounce house though. Our bounce houses are cleaned and sanitized after every single rental guaranteed. Choose from our great selection by clicking the link below!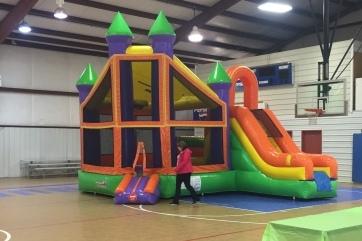 Bounce & Slide Combos
Looking for a little more bang for your buck? Well look no further! Bounce house rentals have quickly become a staple in most backyard parties and community gatherings but we take it a step further. How about a bounce house with an inflatable slide built right in? I guarantee this combination will keep your kids and party goers entertained for hours on end. We have lots of options to choose from. Check it out by clicking the link below!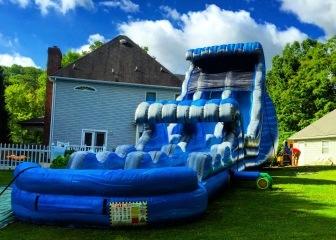 Water Slides
Don't let the East Tennessee summer heat get you down! Backyard Bouncers has a huge selection of inflatable water slides and wet bounce/slide combos. We have water slides to fit any event both big and small. Let one of our party specialist help you make your next gathering the talk of the town. Browse our huge selection of inflatable water slides, check availability, or book online by clicking the link below.
Rock Wall Rentals
Our Rock wall stands 24 feet tall and provides great entertainment for any sized event! Our Rock wall climbing instructor will make sure each climber gets instructions and is safely secured to the auto belay system. This rock wall has 4 climbing surfaces to climb at one time (each with different levels of difficulty)
More Details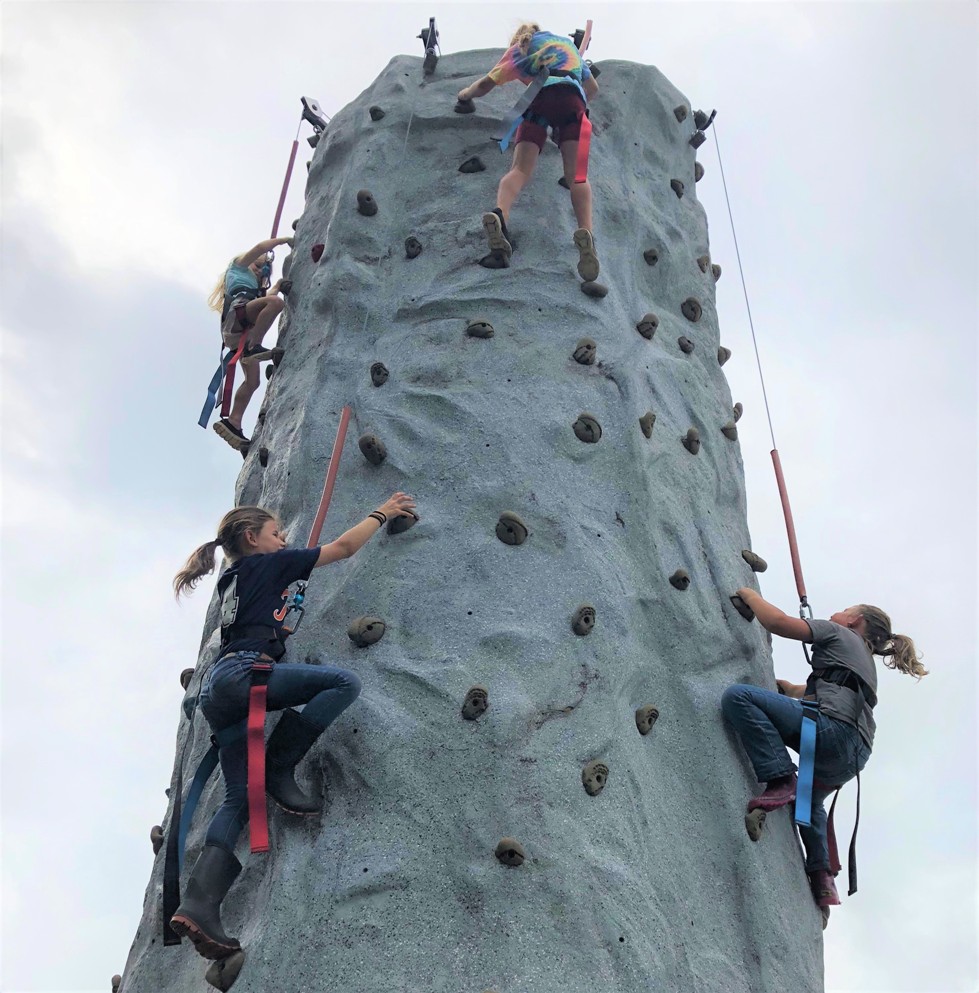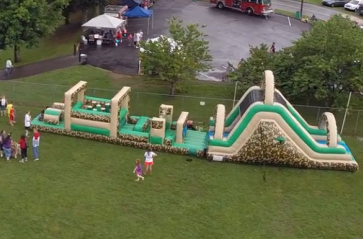 Obstacle Courses
Obstacle Course rentals have a very high throughput rate making them the perfect addition too church gatherings, school fun days, festivals, or even corporate team building events. All of our obstacles have two lanes of competitive fun. Crawl through, bounce around, jump over, climb up, and slide to the finish! Not all obstacles are created equally so check out our huge selection of inflatable obstacle courses and see which one is the best fit for you.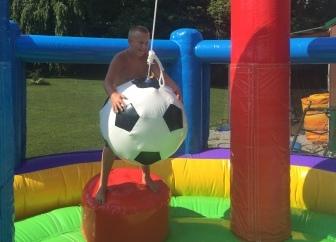 Interactive Games
If you are in need of something a bit more extreme then Backyard Bouncers has your back. Our HUGE selection of interactive games are great for youth group events, school events, fall festivals, team building events, graduation parties, post prom parties, and even office parties. Maybe you would like to box with your boss or watch your teacher joust with the principal. The possibilities are endless with our cutting edge interactive inflatable games.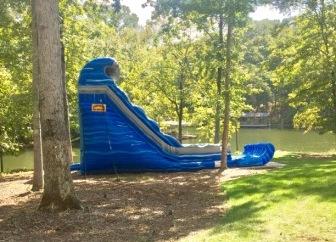 Dry Slides
We sure do like our water slides but we know sometimes our customers need something a bit more on the dryer side. For this reason Backyard Bouncers has a great selection of inflatable dry slides. Dry slides rentals are great during spring of the year, fall, or even indoor events. Inflatable slides are huge, colorful, and always draw a big crowd making them a huge hit at any event. Click on the link below and see for yourself all the cool slide rentals we have to offer.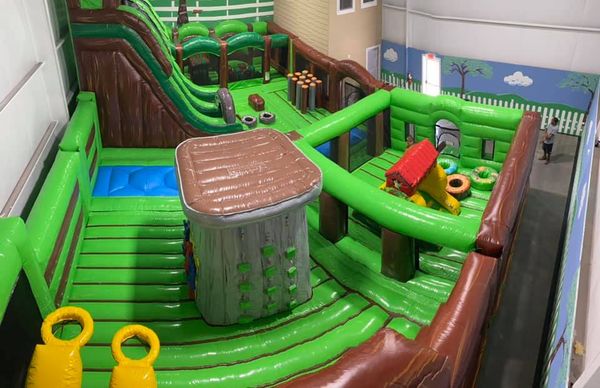 Indoor Bounce
Backyard Bouncers is proud to offer Clinton Tennessee's only indoor bounce arena. Custom made and designed by the owners of Backyard Bouncers, you are promised a one of a kind experience with your kids. We offer Open play days where you can bring your kid one and up to play for one hour for only $10. Backyard Bouncers also offers Weekday and Weekend Private party rates starting at just $275 for 2 full hours. Click on the link below to see more details and availability!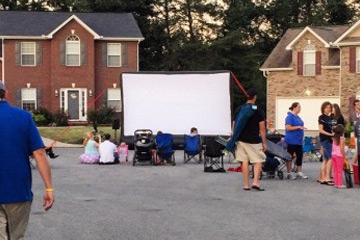 Movie Screens
We offer a great selection of inflatable movie screens at the most affordable prices in Knoxville TN and the surrounding areas. We even offer a bounce house/movie screen combo. With spring in the air it is the perfect time for you to plan your movie screen event. We can accommodate all sized events from movies in the park to you very own backyard. For larger events we offer our wireless speaker system to even out the sound.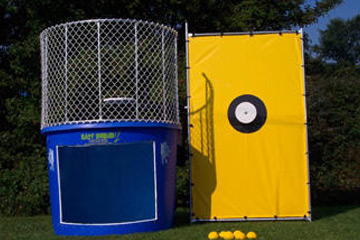 Dunk Tanks
Here at Backyard Bouncers we believe it's important for our customers to get the cleanest and best maintained equipment around. Our dunk tanks rentals are no different from the rest of our party rental equipment. Clean, Sanitized, working properly, and safely! You can reserve your rental online or give us a call and we can assist you with booking your dunking booth rental today! Rent a Dunk Tank!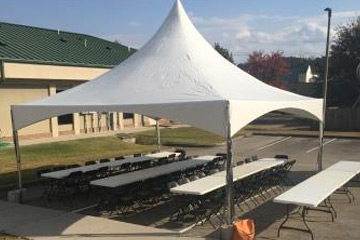 Tents Tables & Chairs
Backyard Bouncers stands out big time when it comes to Tent, Tables, and Chair rentals. We have been around and seen what most party rental companies bring and we say it's not good enough. We promise we won't bring broken chairs or tables that are falling apart and our WHITE tents will be white. We keep our equipment in top notch shape. Click below to see what we have to offer.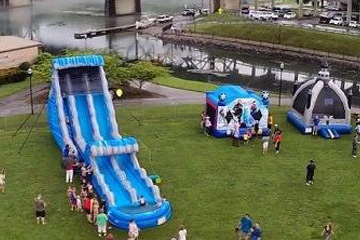 Package Deals
We always like to get a good deal and we know our customers do too! If you are renting an inflatable for your party then chances are you will need a few tables and chairs for your party guest. That's just one example of how we made planning your party easy. If you are looking for a complete party package then click on the link below to see what packages we have to offer.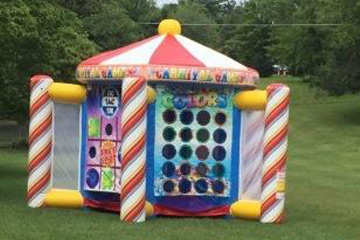 Carnival Games
Nothing ties an event together like a bunch of carnival games. Carnival game rentals go great with almost any theme party but they really shine at school carnivals, church carnivals, festivals, and birthday parties. We offer a lot of the classic carnivals and some new cutting edge carnival games like giant jenga. Click below to see what all we have to offer.
Thank you for visiting BackyardBouncersTN.com. With Spring in the air and quickly approaching We appreciate you taking the time to discover all the great attractions available for your event! Here you will find classic Bounce Houses, Inflatable Slide, Water Slide, Bounce House Slide Combo's, Obstacle Courses, Carnival Game,Dunk Tank, Rock Wall rentals and much more.
Backyard Bouncers is a Clinton Tennessee based party rental company serving the greater Knoxville Tennessee area and surrounding communities! We pride ourselves in providing safe, reliable party rental equipment, and great customer service from our professional staff! You can count on us to be on time with exactly what you reserved for your event!

Customer Review 1-23-22
Thomas Skeen
Super clean, super fun, very family friendly and very well run / maintained!
Customer Review 1-22-21
Debbie Russell
Love the folks at backyard bouncers. We've been using them for a couple of years now, and they go above and beyond. For all your party or fest rentals I highly recommend them they are the best in our area!!
Customer Review 12-24-21
Kristen Salmon
Very nice people! The Inflatable was very clean and you can tell they take care of their equipment. Kids loved it! Under the Sea jumper/slide is beautiful colors and was perfect for a mermaid party💜 Will definitely be using this company again for any jumpers/slides we need!
Customer Review 10-1-21
Joanie Hayes
The owners are extremely friendly and easy to work with. Easy pick up and drop of with our rental, not to mention very affordable. We will definitely be using Backyard Bouncers in the future. It was an all-around fantastic experience 👍👍.