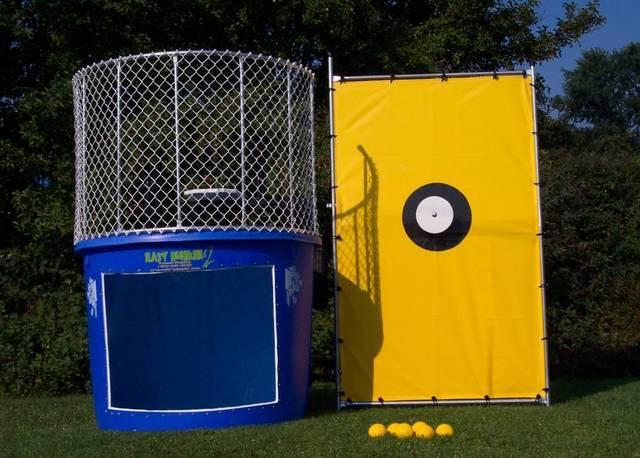 Dunk Tank With Window


Actual Size: Requires 2" trailer ball and 4 pin connector for customer pick up.
Setup Area: 10ft W x 15ft D x 8ft T
Outlets: Requires Water spigot




Dunk Tanks are a classic party rental and are great for fundraisers!
Important: Our dunk tanks take about 45 minutes to an hour to fill up (depending on water pressure) and 45 minutes to an hour to empty.
Everyone at some point has seen a dunk tank. I mean they have been around forever right? Well most people never get tired of dunking the principal, your boss, or a public official. I will tell you this, dunk tanks have come a long ways since back in the day! Now they are more presentable, safer, and as always draw in a big crowd.

Are you having a carnival themed Birthday Party?
If you are throwing a carnival themed party then you simply can't do it with out a dunk tank! Having a dunk tank at any party adults or kids, it just brings in a sense of excitement that no one can ignore. The dunk tank rental works great as a stand alone centerpiece and also works as a fantastic add on to a Bounce House or other carnival games!