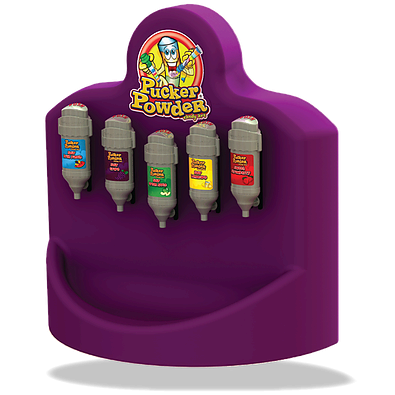 Pucker Powder Edible Art
Pucker Powder is Something every age can enjoy. The tental includes enough supplies for 30 servings. Additional kits are available for $20 and include the same 5 flavors as well as the tubes to create your edible art. Sweet Birthday Cake, Sour Green Apple, Sweet Strawberry, Sour Grape, and Sour Fruit Punch are the flavors included in the kit. Remember It's not just a tasty cand treat it's ART.

How Does it work? It's very simple. First your party guest will pick up a resealable 6" Tube. Next they open the lid, place it under one of the flavors and push the big button located on the top side of each flavor. Then they simply repeat the processwith different colors until their tube is full. then they snap the lid closed and admire their work of art. Since the lid snaps back re sealing the tube they can choose to eat it at the party of take it home for later!